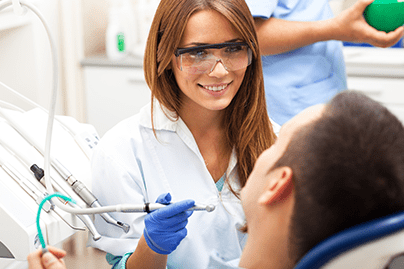 Sedation Options for Dental Services
Sedation options are available for patients who have any sort of anxiety during their dental treatments.
We provide Sedation dental options
We provide BOTOX treatments for headaches, TMJ and to reduce wrinkles
You receive a personalized Experience
We provide customized Treatment Options
We give comprehensive dental services in one location
We do direct billing to insurance companies
We are a family oriented dental clinic
We focus on patient's care & satisfaction
We have convenient appointment times
We have dedicated & friendly dental staff
We provide non-judgmental diagnosis & treatment
We maintain computerized digital Record keeping for enhanced security
We give same day emergency dental appointments
We offer financing & payment options
We are conveniently located in the NW Calgary
All dental services are provided by a General Dentist.
Three business day cancellation policy in effect for weekday & Saturday appointments.
What our patients say about us!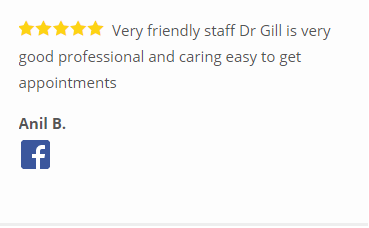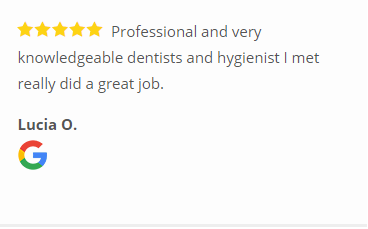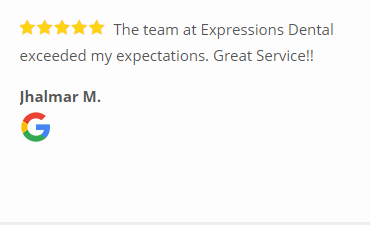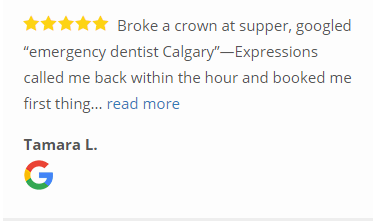 Seeing your dentist regularly is a significant part of living a long and healthy life, but a number of people avoid getting their checkups because they fear or have anxiety of dental work. Therefore, many suffer needless pain and health complications. Sedation during dentistry can be a solution for people dealing with these issues. At Expressions Dental
™
Clinic, sedation is available in the form if nitrous oxide ("laughing gas"), oral sedation and IV sedation.
Sedation Dentistry is termed as the use of sedation during dental treatment. It is most commonly used during extensive processes, for patients with dental phobia or for patients who find it difficult to sit still. There are different types of sedation- oral sedation, IV sedation, nitrous oxide, and general anesthesia (we do not provide general sedation at our dental office).
How does Dental Sedation work?
At Expressions Dental
™
Clinic, sedation ranges from minimal, where you are given nitrous oxide or oral sedation where you are given medication that keeps you awake but relaxed, to moderate which is IV sedation. You are still awake for this but may not remember the procedure.
What are the advantages of Dental Sedation?
Sedation dentistry benefits in several ways- people often feel like their dental process lasts only for few minutes when actually it might have required hours to perform. Thus, complex dental work like extensive restorative procedures, which generally may require multiple visits can often be conducted in fewer appointments. Also, due to sedation people are less likely to neglect their oral health, since sedation dental care addresses some of the fears that keep people from visiting the office on a regular basis.
What are the things about Dental sedation that one needs to be considered?
In oral sedation, it can affect your reflexes, thinking and timing. You should not drive a vehicle, operate hazardous machinery, make important decisions or consume alcohol for a minimum of 18 hours or longer if drowsiness or disorientation persists. You may find difficulty in speaking or may have a feeling of confusion and dizziness. You will probably feel fatigued and may not have much energy or motivation to do anything else. In IV sedation, there is a use of a needle for injecting in your arm or hand, which may not be an entirely pleasant experience for you, mainly if you are afraid of needles. This sedation is offered for surgical procedures by Dr. Dionysius David. In such a case, our general dentist may suggest you other forms of sedation in the form of pills or laughing gas. If you are worried about upcoming dental work, you can contact our dental team for sedation options at
+1 (403) 252 7733
.